The Center for Advanced Liver Diseases and Transplant at University Hospital is organized with a team approach designed to give comprehensive, individualized care to patients with complex diseases. The team consists of a designated group of physicians, physician assistants, nurse coordinators, social workers, financial coordinators, and nutritionists. Physicians include hepatologists (liver disease specialists), transplant surgeons, a psychiatrist with expertise in transplant issues, and other specialists as the need arises.
Nurse coordinators play an important role as the daily, direct and personal liaison between the transplant team and the patient.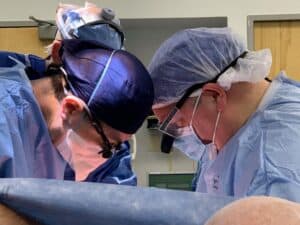 (L-R) Flavio Paterno, MPH, MD and James V. Guarrera, MD, FACS
perform a transplant.
Doctors, Surgeons and Physician Assistants
The many doctors and physician assistants on our team collaborate to make sure you have the best, most comprehensive care at University Hospital.
Transplant Nurse Coordinators
Our Registered Nurses (RNs) have special training to support transplant patients throughout their journey. We have coordinators for every stage of transplant, including pre-transplant, waitlist, and post-transplant.
Patient Navigators
Specially trained, non-clinical support staff help patients through the transplant process. Navigators are paired with nurse coordinators to help provide continuous support to patients being evaluated for transplant or while on the UNOS waitlist.
Financial Coordinators
Work directly with patients and their families to help finance the treatment needed. Finance can help with medical care, prescriptions, insurance, and alternative eligibility.
Pharmacy
Our Doctors of Pharmacy help coordinate any existing medication with those necessary for transplantation. They can answer any and all medication related questions.
Social Work
Our team works with patients and their mandatory support system to prepare for the needs of transplant recipients. They also coordinate support groups and meet-ups for patients in all stages of the transplant process.
Registered Dietician
While a healthy diet is critical to the well-being of all patients, those with liver disease require special care. Our dietician is available to help guide patients toward a healthy, liver-approved diet.
Clinic Staff
Liver transplantation has its own clinic space, staffed with personnel trained specifically for liver patients. Most appointments throughout the transplant journey will take place at our clinic.
Office-Based Staff
Our administrative staff works to keep the department organized and moving in the right direction. Information technology and data analysis provide critical support for keeping our team up to date and providing the best care.
Quality Coordination
Liver transplant teams must adhere to strict quality measures. Quality coordination help to maintain the highest standards.
Administration
Clinical and administrative leadership drive the operations of the Center for Advanced Liver Diseases and Transplant at University Hospital.