Head and Neck Oncology and Reconstructive surgery
Our physicians and surgeons see about 300 new head and neck cancers every year. An estimated 52,000 people are diagnosed with head and neck cancer each year, according to the National Institutes of Health, which represents around 3% of all cancers in the United States. The head and neck service at UH is dedicated to clinical care.
Cancer in the head and neck can be extremely challenging and treatment is often complex and requires a comprehensive clinical approach. Therefore, we present all cancers to our weekly multidisciplinary tumor board. Each cancer patient has a unique set of problems and our tumor board ensures that treatment is tailored to their specific issues in order to provide the best medical, functional, and cosmetic outcomes.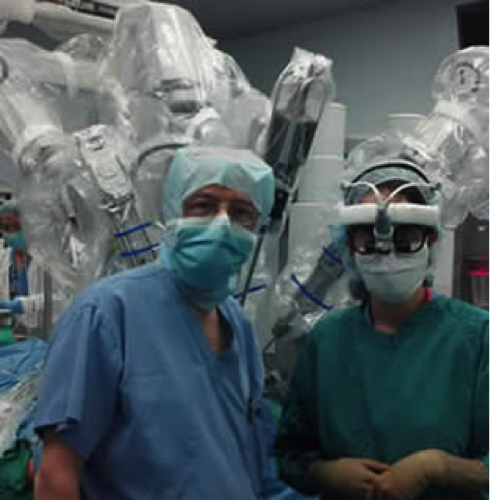 The Head and Neck Tumor Board, a panel of physicians, nurses and therapists, meets weekly to discuss patient cases. Experts in surgical oncology and reconstruction, radiation oncology, medical oncology, neuro-radiology, pathology, and oral surgery discuss each patient, in order to come up with the best diagnostic and treatment plans. Head and neck cancers can be treated with surgery, radiation therapy, chemotherapy or a combination thereof. Patients can be assured that treatment options were discussed during this meeting, in order to provide them with the best care.
Head and neck patients also receive outstanding care during and after treatment with physicians in rehabilitation medicine, as well as experts in speech and language pathology, audiology, social work, nutrition, physical therapy, and respiratory therapy.
Meet our Head and Neck Oncology Surgeons
Soly Baredes, MD. Dr. Baredes completed his fellowship in Head and Neck Oncology at Beth Israel Medical Center in New York. He has been practicing head and neck cancer surgery for More than 30 years and is considered one of the pioneers and leaders of the head and neck oncology field. His clinical emphasis is on treating patients with tumors of the aerodigestive tract. He also has a clinical interest in resecting tumors with robotic surgery.
Chan (Richard) Park, MD. Dr. Park completed his fellowship in Head and Neck Oncology and Microvascular Reconstructive Surgery at the University of Washington. His practice involves treating patients with malignant tumors and specializes in reconstructive surgery after treatment of large tumors of the head and neck. He also has a clinical interest in resecting tumors with robotic surgery.
Evelyne Kalyoussef, MD. Dr. Kalyoussef is a head and neck cancer surgeon and has a clinical interest in treating patients with benign and malignant tumors of the head and neck. She also has an interest in endocrine surgery and treats many patients with thyroid cancer. She specializes in minimally invasive methods for removing tumors of the head and neck, including the use of endoscopic, robotic, and laser techniques.
Raymond Scarpa, DNP, AOCN, APN-BC. Dr. Scarpa is practicing as a supervisory advanced practice nurse for the Department of Otolaryngology Head and Neck Surgery at University Hospital. He holds certifications in Medical/Surgical Nursing from the American Nurses Credentialing Center of the American Board of Nursing Specialties, and Advanced Oncology Certification from the Oncology Nursing Certification Corporation. Dr. Scarpa provides care in the outpatient clinic as well as in the operating room.