Peer Leader Research Associates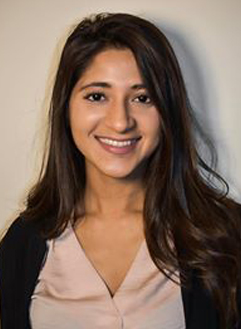 Humna Aminullah, BS, MS
Humna Aminullah is an Alumni of the New York Institute of Technology where she got her Bachelors from NYIT, as well as a Master of Science in Interdisciplinary Studies in Biological and Physical Sciences from Touro University-Harlem. Humna has helped leverage her experiences to find ways to innovate the Research Associate Program here @ University Hospital in the effort of remaining agile and enacting best practices. She has an interest in healthcare equity, access, and empowering patients to own and drive their own health through matrixed relationships where providers, patients, and support systems/family all play a part in individual health. 
On March of 2020 Humna was published on PubMed, her article "Anatomy, Shoulder and Upper Limb, Forearm Compartments." can be found here. She is currently a second-year Physician assistant student at the Yeshiva University/Katz School of Science and Health in the Bronx graduating end of 2023. She is part of multiple student interest groups, and has an interest in working in the Bronx after graduation to work with a socio-economically diverse patient population, with high acuity and range of pathology.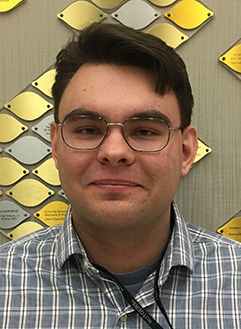 Roman Chyshkevyc
Roman is a Senior RA who joined the program in Spring of 2018. He is currently a senior at Rutgers University- Newark pursuing a Bachelors of Science in Biology and will be applying to Medical School in the 2020 cycle. Roman serves alongside Maitri and Maximos in recruitment, going through applications and interviews.
Maitri Shah
Maitri is currently a sophomore at Rutgers University-Newark where she currently recruits students for the RA program along with Senior Research Associates, Maximos and Roman. Maitri was one of very few students accepted as a freshman, and shined from day 1. She currently serves on her pre-health society at Rutgers and has a gift-giving planned for December where her group will come to University Hospital and distribute gifts to the children's ward.
Senior Research Associates (Research Associates who are serving their 3rd semester with the Program)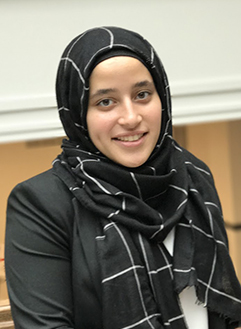 Sabrina Ahmed
Sabrina is currently a Junior at Rutgers University- Newark where she majors in Biology, and minors in Chemistry and Middle Eastern and Islamic Studies. Sabrina serves as the president of the student body at Rutgers, and is a member of the Honors Living and Learning Community, the Honors College, and the BOLD women's leadership network. Sabrina has experience in the medical field through working as a medical assistant in a Family Physicians office. Sabrina aspires to go to medical school and eventually travel the world providing medical aid to those who need it most all aroud the world.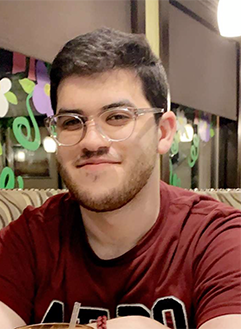 Hamza Albondogji 
Hamza graduated from Montclair State University with a Bachelors of Science in Biology. He has participated in numerous science organizations as well as conducted research in physiology at MSU. He currently works in the Pediatric Emergency Room at Hackensack Meridian Hospital as an ETD clerical associate. Hamza plans on applying to medical schools in June 2019, and is a Research Associate @ University Hospital of Newark.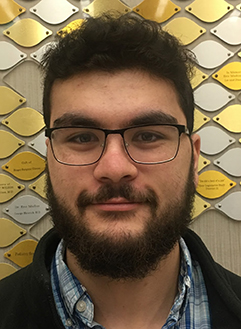 Maximos Bogdady
Maximos serves as a Senior Research Associate, and conducts interviews, recruitment and more. A man of few words but an impressive presence, Maximos was chosen for his excellent credentials but more important his mature attitude and ability to calm cruise through the ER unfazed. Maximos graduated from Rutgers University-Newark in 2018 and is currently applying to medical schools.
Samah Farid
Samah joined the RA Program in Spring 2018. She is currently a junior at Rutgers-Newark and is an active member of the Honors College. Currently, she is pursuing a degree in biology and minor in chemistry. In addition, to research at the hospital she is a student intern at a Neuroscience Lab where she is a part of the African American Brain Health Initiative. In addition, she volunteers at a Specialty Pharmacy in Harlem, New York, and is the Mentoring Chair of the Honors College Student Council.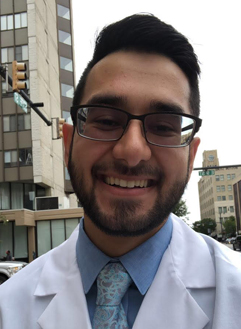 Saif Hasan
Saif is currently a first-year medical student at LECOM in the Erie, PA campus, where he is president of the PM&R club there and hopes to enrich his medical experience through participating extensively in Clinical research. Saif is a New Jersey native, graduating right here in Newark from the New Jersey Institute of Technology where he was active on-campus in guiding Freshman and fellow classmates in navigating the undergrad journey. Saif has an interest in Research and is currently awaiting a publication on Pubmed.
Fatima Abdulrauf, BS
Fatima Abdulrauf is an alumnus of the New Jersey Institute of Technology where she got her Bachelors in Biology '18.  Fatima conducted Research at Hackensack University Medical Center in 2015 and later on here at University Hospital in 2016-2017 using her private and public hospital experiences to identify areas of improvement for the Research Associate Program @ University Hospital. 
Since Graduating in 2019 Fatima has worked at the Urgent Care of New Jersey by Robert Wood Johnson University Hospital in Edison as a Senior Medical Assistant under the renowned urgent care specialist Dr. Khalid M. Aziz. 
Fatima has an interest in healthcare equity, and access, and follows Dr. Aziz belief in empowering patients to own and drive their own health through patient education. She believes treating patients is only part of the current crisis, healthcare literacy, patients being educated on their bodies and preventative measures, is a public health issue she noticed while working in urgent care medicine, and wants to do her part to close that gap by ensuring whether it's a routine visit or urgent care, the patient leaves knowing more than when they walked in.
In March of 2020 Fatima was published on PubMed, her article "Anatomy, Shoulder and Upper Limb, Forearm Compartments." can be found here. 
She is applying to medical schools this cycle across the US and has an interest in returning to New Jersey after graduation to work with a socio-economically diverse patient population, with high acuity and range of pathology.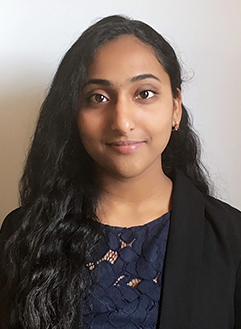 Jagathi Kalluru
Jagathi Kalluru is a sophomore biology major at NJIT and plans on attending medical school after graduating. She has been an RA since Spring of 2018 and has been actively trying to improve and develop the program every step of the way. On campus, Jagathi is NJIT's Red Cross president and educates the Newark community by holding informative sessions about health awareness and disaster preparedness at local elementary schools.
Grishma Kumar
Grishma is currently a third-year Biology Major Undergraduate in the Rutgers-Newark College of Arts and Sciences, serving as a Research Assistant for a second semester. On campus, Grishma is involved as a Student Health Advocate with the Health Promotion Division of Student Affairs, which is involved in educating the student body on methods of wellness, topics of health and social justice, and resources available to students that deserve more awareness. In other words, when free flu-shots become available during flu-season, Grishma will be right next to Health Services making sure everyone knows!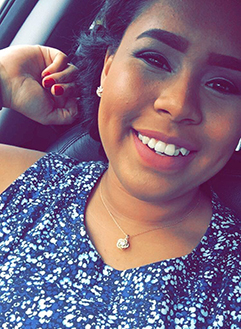 Eliany Mendoza
Eliany is a recent graduate from Kean University who joined the RA program in the Fall of 2018. She majored in Biology as an undergraduate and will be applying to medical school in the 2020 cycle. In addition, she volunteers as an interpreter at Bergen Volunteer Medical Initiative, a free healthcare clinic for the working uninsured.
Mohammed Mirza, MD
UNIBE College of Medicine
Mohammed joined the RA Program, Summer of 2018 and from Day 1 has continued to give 110%. From being there every day to coordinating with residents from other teaching hospitals, Mohammed has taken the RA Program philosophy and applied it to his every day life. As of September, 21st 2018 Mohammed is currently awaiting publication of an article he co-authored alongside residents of Orthopedic Surgery "Atypical Presentation of Atraumatic Subdural Hematoma Associated with Warfarin: A Case Report and Review of Literature " the paper will be published in the Journal of Orthopedic Case Reports.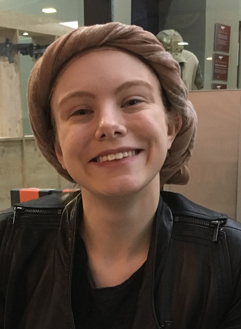 Corrine Quirk
Corrine graduates from Columbia University with a Bachelors in Biology, and during her time in undergrad participated in Research in SURF (Summer Undergraduate Research Fellowship) and accrued experiences at various labs and mentors. After graduating Corrine immediately took a job in Research at Rockafeller University where she does virology research on the Rockafeller/Weill Cornell Medicine/Memorial Sloan Kettering Campus on the Upper East Side. Corrine is interested in the Research Associate Program @ University Hospital for the diverse population the city provides in addition to her interest in the workings of a Public Hospital. She is currently studying for the mcat and enjoys talking about anything science.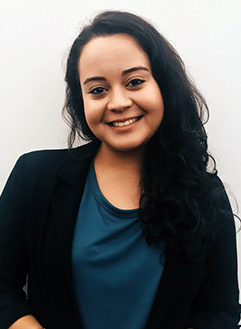 Diana Rodas
Diana joined the RA Program Summer of 2018. She is a junior at Rutgers-Newark and currently working towards a Bachelor of Arts in Neurobiology. Diana is also a part of the Rutgers Honors College and the Vice President for the Honors College Student Council. In addition to being a research assistant at University Hospital, she is also a research assistant for the Cole Neurocognition Lab at Rutgers where she works with fMRI and EEG machines in neural network and behavioral studies. Diana plans to pursue medical school after graduation.
Fall of 2019 Semester Research Associates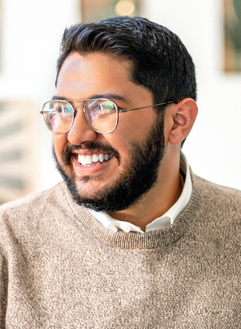 Nisarg Gandhi
Nisarg joined the Research Associate Program at University Hospital in Fall of 2019 and is successful in demonstrating the utmost maturity and responsibility with an obvious dedication to the program and faculty. Nisarg is currently a Medical Humanities student at Montclair State University on the Human Biology track, where he is also the Founder and President of the Student Osteopathic Medical Association and co-founder of the Medical Humanities Club. When he is not at school, Nisarg works as a Clinical Information Manager in the Emergency Department of Saint Barnabas Medical Center. Enthusiastic about a career in academic medicine, he plans on applying to Physician-Scientist training programs to be at the forefront of bioethical research.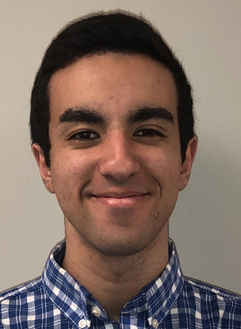 John Tobia
John joined the RA program as a rising sophomore in the summer of 2019. He is part of the Albert Dorman Honors College at NJIT, and is pursuing a Bachelors of Arts in Biology. John enjoys spending his time serving on his local first aid squad and is very passionate about the field of medicine. He plans on attending medical school after he graduates NJIT.
The incoming class for the Spring of 2020. These Research Associates will be "Junior Research Associates" and will work under the guidance of their Senior RAs as they begin their journey @ University Hospital.