Shereef Elnahal, M.D., M.B.A.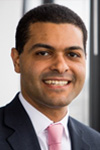 Shereef Elnahal, M.D., M.B.A.
MEMBER, ex-officio
Dr. Shereef Elnahal is President and CEO of University Hospital in Newark, New Jersey's largest safety net hospital with over 500 licensed beds and $738.2 million in patient service revenue. The hospital serves as the main academic medical center for Rutgers New Jersey Medical School and the Rutgers School of Dental Medicine, both in Newark.
University Hospital has been on the front lines of the COVID-19 pandemic. Serving in the world's hot zone for the disease, University Hospital was among the top 10 hospitals in the state in the number of COVID-19 patients served. In addition, University Hospital served as the northern regional coordinator for hospital capacity on behalf of the state, and assisted in operating the Meadowlands Field Medical Station in Secaucus, NJ, which served over half of the hospitals in NJ's northern region, accepting transfers of convalescing patients with coronavirus. This initiative liberated needed hospital capacity to serve more acute patients with the disease in our hospitals. University Hospital has also been running multiple scientific investigations of novel therapies, including convalescent plasma therapy, remdesivir, and other agents. The American Red Cross has partnered with University Hospital to be one of only several plasma donations sites in the state.
Previously, Dr. Elnahal served as New Jersey's 21st Commissioner of Health.
He joined the Department of Health (DOH) in January 2018 and quickly established a new vision for the Department with specific goals: Eradicating the opioid epidemic; decreasing maternal mortality and improving access to women's health care; reducing disparities in public health outcomes, increasing access to health coverage and mental health care; expanding the medicinal marijuana program; and expanding telehealth and interoperability.
Women's health is a key priority for Dr. Elnahal. Early in the Administration of Governor Phil Murphy, the Governor signed legislation restoring $7.5 million in DOH funding for family planning. Dr. Elnahal also directed funding for a new Healthy Women-Healthy Families Initiative focused on increasing healthy births and decreasing black infant mortality in communities with the highest black infant mortality rates.
Dr. Elnahal also managed significant reforms in the medicinal marijuana program, reducing patient and caregiver registration fees, allowing dispensaries to add satellite locations, and adding mobile access so that patients, caregivers and physicians can register, make payments and upload documents on their smartphones and tablets.
Prior to his DOH nomination, Dr. Elnahal worked as a physician executive in the largest health care system in the country — the U.S. Department of Veterans Affairs (VA).  As the Assistant Deputy Under Secretary for Health for Quality, Safety, and Value, he managed a workforce of hundreds and a budget of more than $180 million.
While serving at the VA, he was selected by President Barack Obama as a White House Fellow in 2015. At the VA, he spearheaded unprecedented efforts around transparency in access and performance, as well as standardizing best practices that prevent opioid dependency, improve women's healthcare, and enhance access to care for veterans.
He grew up in Atlantic County and is the son of doctors who immigrated to New Jersey from Egypt. He received a dual-degree M.D. and M.B.A. with Distinction from Harvard University, and graduated summa cum laude with a B.A. in biophysics from Johns Hopkins University.